Crater Making with Mr. Musselman and the Burlington Public Library August 8, 2019
Posted by Sean Musselman in Burlington Community, Science.
Tags: community, K-5, moon
trackback
The Burlington Public Library has been celebrating the 50th anniversary of the first moon landing all summer long in the children's room. As a part of the festivities, Mr. Musselman hosted a "crater making" experience on Wednesday, August 7th to the joy of a classroom's worth of children ages 5-11 and their adult counterparts.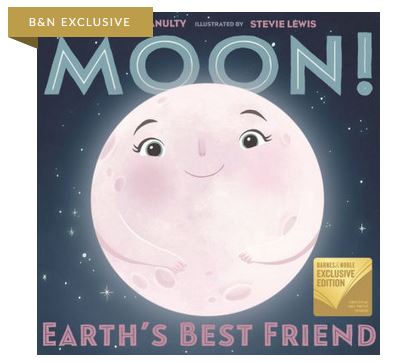 Mr. Musselman started by asking participants to share "what they wondered about the moon" when they gazed at it in the sky before reading "Moon" by Stacy McAnulty. Many of the participants' questions were answered by this delightfully illustrated children's book, but many questions about craters remained, leading into Mr. Musselman's crater investigation!
Participants examined Mr. Musselman's big portrait of the moon before investigating their answers to their questions about how craters are made and the patterns they leave behind on the moon's surface. Mr. Musselman used this video produced by NASA's Jet Propulsion Laboratory to guide his own moon surface model making before providing participants with a variety of different stand-in asteroids and letting the kids get to work!
As you can see the participants did a great job explaining the patterns they made and explaining everything from why some craters are deeper than others to the kinds of "ejecta patterns" each collision made. All in all it was a huge success! Thanks to the Burlington Public Library for hosting Mr. Musselman and NASA JPL for sharing this activity!